Welcome to the 2nd edition of the new format of the Meditate or Die newsletter.
I'm still tweaking the format and am open to your thoughts.
​
Just reply back to let me know if you like the new format or not, or if you have any suggestions.
Enjoy!
What I'm Thinking
Past trauma is nothing to be trivialized. For it can cast an emotional shadow on one's entire life.
Like an invisible bruise sore to the touch, and without knowledge of how it got there, past trauma can make many aspects of our lives, deeply confusing.
During my Ph.D., and the years since I have thought deeply about this topic.
And how the shadows of trauma change the way we understand and misunderstand the person we are.
A large part of my work,—articles, essays, and the book—has been on the relation between the decisions we make as adults, our personal identity, and our emotional lives.
The rabbit hole is deep, folks!
But I know this, meditation is one of the keys to the healing process, as it is the light of wisdom that heals.
And meditation, deep meditation, allows us to navigate that light where needed most.
But only when coupled with pen and journal can we truly overcome said trauma.
What I've Been Reading
This week I've been working my way through some Christian Theology. Drawing connections with Buddhism has been a fun exercise.
I do this not to refute or find a "winner" but to better understand all traditions.
1. Zealot – the life and times of Jesus by Reza Aslan​
2. Dialogues concerning Natural Religion by David Hume
3. Theology for Beginners by F.J. Sheed​
​Each of these gives a different account from a different period in our cultural history.
The gift we are given by the hard work of writers is a gift I'd encourage you to receive. For there is a nugget of wisdom in each. Sometimes several. And joy is finding it is like no other.
What I've Created
Balancing self-improvement and self-acceptance is no easy task. I was out of balance for many years in fact.
So I offer you 5 things that worked for me.
Below are the opening lines from the start of the video…
Working on yourself. Becoming a better person. Improving how to deal with life has one big problem!
It can lead to a downward spiral of self-deprecation where all you see are faults.
But accepting everything means changing nothing.
If you are caught in the conundrum of self-improvement and self-acceptance?
So here are 5 habits that worked for me that may work for you too.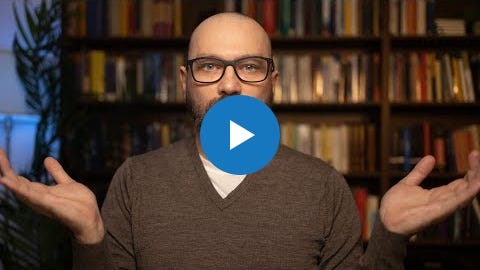 ​Click here to watch the Youtube video.​
Update on the podcast, I've not decided as yet as to how I will proceed with the podcast.
This is in part because the Youtube videos are taking longer than I expected to create.
I've not given up though and will continue to find ways to give you interesting articles, videos, and more across various platforms.
Take care
Clarke Scott